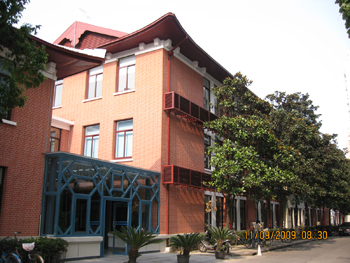 The International School of Tongji University, established in 1998, is the second-level school of Teaching and Research of Chinese as a Foreign Language. At present, over 600 international students from more than 40 countries are studying Chinese in our School, among whom there are nearly 100 international students of undergraduate program majoring in Chinese. The School has an optimum structure of teaching faculty both in age and discipline. The present Dean of International School is Professor Chen Qiang.
Teaching Chinese as a foreign language in Tongji University opens in 1970s. The professional Chinese courses are set for international students on the major studies, since the University has continued to enroll international students. Since 1987, the School has opened the short-term Chinese training class to recruit short-term Chinese trainees. Since 1997, the School has undertaken the Chinese training for international students on preparatory studies. Since 2002, the School has enrolled international students of undergraduate program majoring in Chinese, the first session of undergraduate international students has graduated successfully. During the over 30 years' teaching and practice, The International School is on the process to mix Chinese teaching with other majors supporting by the advantages of disciplines of city construction, architecture history, tourism culture and economic management, which is well-received by international students all around the world.
The International School consists of complete degree and non-degree Chinese teaching system. Chinese undergraduate (Economy and Trade-Oriented) aims to cultivate students to have a command of Chinese, to learn Chinese condition and culture, to get familiar with China's foreign economic laws and regulations, to be equipped with the ability to apply Chinese in economic and trade activities and the qualification to undertake the trade cooperation and exchange with China through systematic teaching of basic Chinese knowledge and skills. Since March 2007, Chinese undergraduate program has recruits new students every spring and fall term.
In March 2009, the Department of International Foundation Program for International Students set in Tongji University authorized by Bureau for International Cooperation and Exchange, Ministry of Education and China Scholarship Council. In August 2009, the Department of International Foundation Program in The International School of Tongji University was officially founded. In 2010, 119 students of first session have been awarded the certificates, which ranks the first and the rate of 83.2% ranks the second in China. In 2011, 237 students of second session have completed the courses successfully which still ranks the top level and the rate reaching up to 96.3% ranks the second.
At present, the International School, as one of the seven Foundation Departments for International Students under the Ministry of Education in China, opens the intensive courses for Chinese and basic professions where International students would have a systematic study of general Chinese, professional Chinese, Chinese culture, cross-cultural communication, basic courses of mathematics, physics, chemistry, biology and computer science. Various language practices and social activities will also be provided. After one year's study, those students will grasp the basic knowledge of Chinese language and culture, acquiring cross-cultural communication skills and a certain amount of specialized vocabulary and knowledge, which will help them meet the requirements of their further studies and daily life in universities of China.
Non-degree Chinese teaching mainly contains long-term and short-term classes. Long-term class lasts one semester to three academic years, 16-18 academic hours of Chinese courses and 2-4 academic hours of elective courses per week. Short term class lasts one week to three months generally according to students' requirements.
The School has initiated three Confucius Institutes with the cooperation of J. F. Oberlin University, Germany Hannover Center in China and Korea Kyung Hee University Confucius Institute, and two Confucius Classes - Takashima Confucius Class in J. F. Oberlin University, Osaka Confucius Class in Japan Ritsumeikan University Confucius Institute, playing the leading role in Chinese international promotion.
The International School explores another characteristic" International Freshmen School", as kind of virtual teaching form, is the exploration of Tongji University in teaching mode Reform of undergraduate program. After its several operation, " International Freshmen School" has been attached importance by many international student administration of national universities and received great achievements.
The School is committed to students' overall development and organizes many cultural and sports activities for international students. The football team of International School is made up of students from different countries has been the champion for two consecutive years in Campus Football Union. International students of our school take active part in various of activities organized by Shanghai Municipality and Tongji University where their performance with the characteristics of their own countries receives great appreciation.